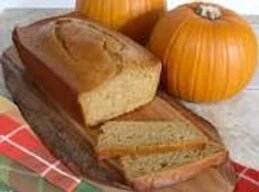 Fall is my favorite season in Colorado. With leaves turning brilliant colors, the sunny days and cooler nights and all there is to do here, I enjoy this time most. Every Fall I bake my favorite pumpkin bread. Funny story about this recipe. It was mailed to me by another realtor who was advertising in my neighborhood, trying to get some new business. The recipe looked good, so I tried it. It's actually one of the best pumpkin breads I've had. So here you go, my favorite recipe for pumpkin bread, courtesy of me and that other agent out there!
PUMPKIN BREAD
Preheat oven to 350 degrees makes one 9"x5"x3" loaf

4 ounces cream cheese, softened 1 ¾ cups all-purpose flour
¼ cup butter softened 1 teaspoon baking soda
1 ¼ cups white sugar ¼ teaspoon baking powder
1 cup canned pumpkin ½ teaspoon salt
2 eggs ½ teaspoon ground cinnamon
½ cup chopped walnuts (optional) ¼ teaspoon ground cloves

Grease one 9x5x3 inch loaf pan. Put softened cheese, butter and sugar in mixing bowl. Cream together well. Beat in eggs one at a time until blended. Mix in pumpkin.
In another bowl combine flour, baking soda, baking powder, salt, cinnamon, cloves and walnuts. Stir until thoroughly mixed. Pour at once over batter. Stir just enough to moisten. Turn into greased loaf pan.
Bake at 350 degrees F for 60-70 minutes until inserted toothpick comes out clean. Cool 10 minutes in pan. Remove to rack to finish cooling.