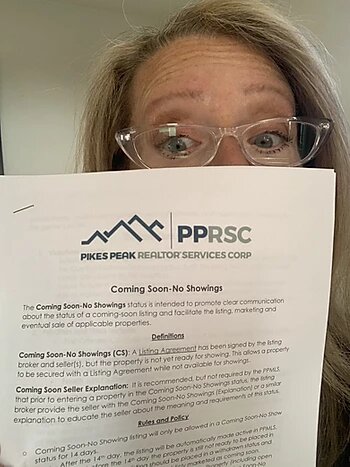 Here in our Colorado Springs real estate market, the local board of Realtors has implemented a new rule for Realtors. Effective March 03, 2020 we now have a new property status. It's called COMING SOON-NO SHOWINGS. This means if we have a new listing which is not ready for showings yet, it can no longer be considered an active property. It must fall under this new category of coming soon-no showings.
Prior to this, we only had an option for ACTIVE status. This applied to all properties available for sale which were not under contract yet. But agents became creative with this status and although they would enter an active property, they would not allow any showings to occur for a specific number of days after going active on market. Why? The simple answer is greed. If an agent posted an active property in MLS with a restriction on showings until a specific day, that agent could possibly sell the home themself and capture both ends of the transaction. Basically the agent could earn two commissions, one for the sell side and one for the buy side.

I often wondered with these types of listings if the sellers actually knew what their agents were up to. Did they realize they had just hired someone to "not allow" showings? I believed and still do that this is NOT in the best interest of the seller. After all, they are hiring an agent to get the home sold. Usually that means sell it now. Otherwise why would it be listed?

It makes sense to suspend showings when a property has some issue which prevents it from being able to show. Examples of this could be: new finish is being applied to the wood floors and they are not ready to be walked on yet. Or maybe it's not quite vacated, and the occupants are taking longer to get out. Of course there are possible situations where a home just isn't ready for showings yet. But these are not the norm.

Normally, when a seller gives permission to activate a listing he is ready to get that place sold. And as their agent, their advocate and representative for the property we must act in their best interest. And this means work for THEM, our clients and not ourselves. We promote their interest first. At least that's what we are taught to do.

Bravo to the Pikes Peak Association of Realtors for passing this new rule and requiring agents to do just that, act in good faith on behalf of the client!